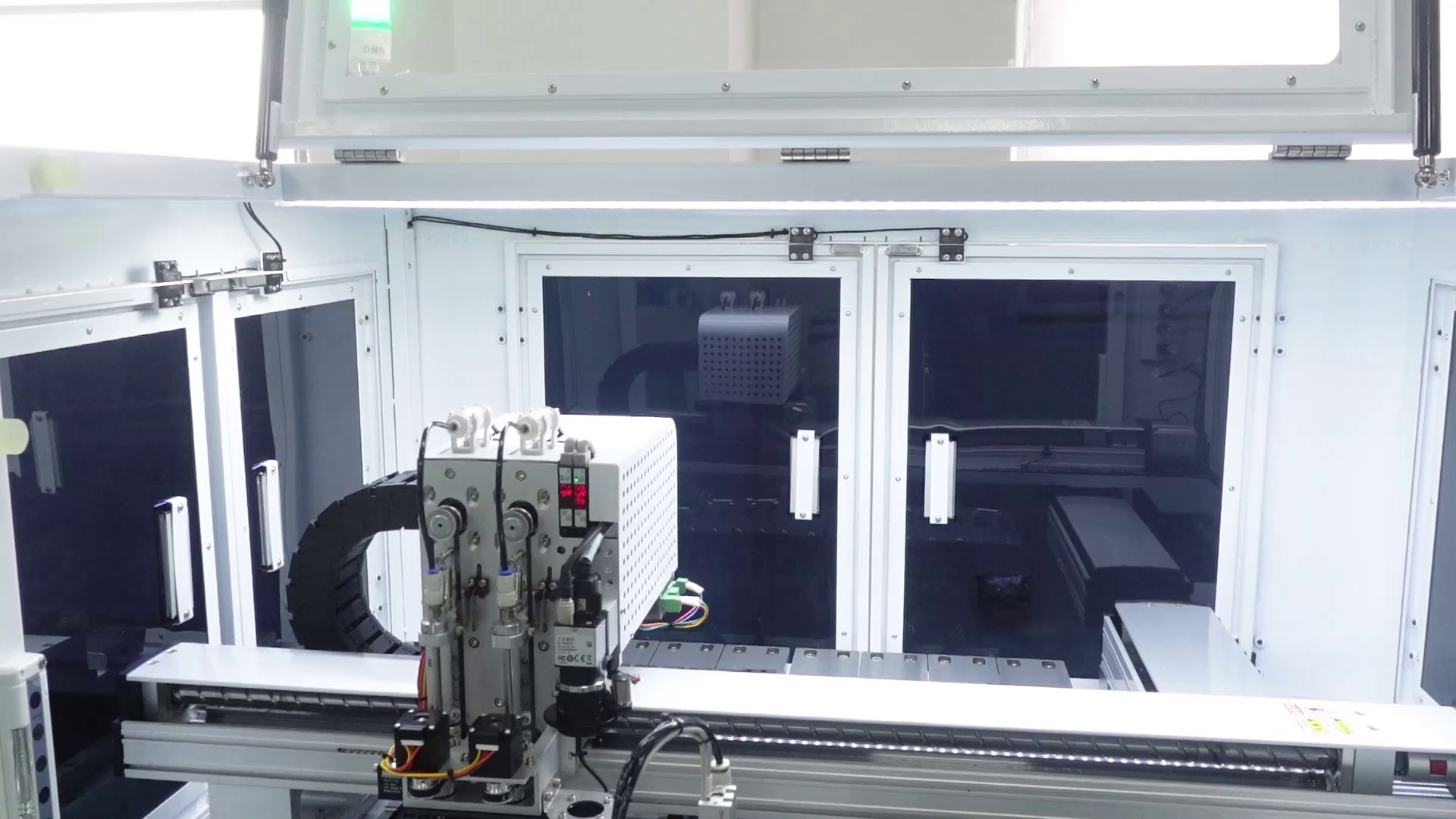 Automatic IC Programming Machine KA2000-GS2
When our manual ic programming is not enough, we may need an efficient and reliable automated system. KA2000 is a tape in and out, tray in and out, optional ink and laser for marking, and with the upper and lower CCD vision alignment system to meet the most stringent programming requirements. KA2000 can support up to 32 sockets, with an output of up to 2000 pieces
Zipper closure 1/5 zip athletic pullovers for men. Stretchy, lightweight, fast-drying fabric for superior performance. REGULAR FIT - US standard sizes. An athletic fit that sits close to the body for a wide range of motion, designed for optimal performance and all day comfort. FEATURES - Quarter zip closure;Thumbholes on long sleeves to keep them in place during workout
Product Features:
High compatibility ;High efficiency;
Simple and convenient software operation;

Tape and tray integrated, can be personalized matching function configuration.

Feed a tray, NG a tray, automatic feed tray.

Support 32 IC burning stations.

It also supports bounce sockets.

Upper and lower CCD visual alignment, optional dot function, AOI detection, altimeter
Technical Parameters:
| | |
| --- | --- |
| Output Efficiency | 2000-2500UPH |
| Host Dimension | 1250*900*1710mm(Length, width,height) |
| Host + Monitor Dimension | 1750*900*1710mm(Length, width,height) |
| The Whole Machine Dimension | 1750*1850*1710mm(Length, width,height,Host + Tray +tape+ monitor) |
| Support IC Package | QFN,SOP,SSOP,TSSOP,SON,QFP... |
| Pick & Place Device | Vacuum nozzle*2 |
| Programming Station | 32 |
| Monitor | 19''LCD |
| Control Method | Embedded control panel |
| Pick & place Accuracy | ±0.03mm |
| Control Method | PLC |
| IC position system | CCD(optional) |
| Programming Method | Down-press type IC socket |
| Tray in and out | Automatic tray feeding device, up to 20 trays |
| Tape Input | Standard 12-16mm optional 8-32mm feeder |
| Tape output | Adjustable hot pressing automatic film sealing device |
| Input Voltage | AC220/50Zhz |
| Power | 1.3kw |
| Air Source | 0.4-0.6MPA |
| Total Weight | 620KG |
Transmission control system
① Equipped with imported servo and grinding grade lead screw for X-Y-Z axis transmission, making the operation stable, accurate and fast;
② Rotating 2 suction pens close to the structure of the mounter, which is the key structure in terms of efficiency;
③Running accuracy ±0.03mm;
visual system
①Equipped with a high-precision digital camera to correct the alignment of each IC pick-and-place to avoid secondary damage to the chip pins;...
②Optionally configure the detection camera to identify the coplanarity error of the IC pins.
Feeding and discharging device system
①Fully automatic tray feeding (20 trays of IC can be fed at one time);
②Automatic tape feeding (Standard 12-16mm, optional 8-32mm、4-44mm feeder);
③Trays can be arbitrarily selected for discharging (20 trays can be produced at one time) and tapes;
④Standard refilling tray (can ensure that the OK material is fully discharged);
⑤Standard NG trays (discharged individually in sequence, compared to stacked NG tanks/cups, to avoid the possibility of secondary damage to pins)
Programming system
①Universal (Support SPI FLASH/EPROM/EEPROM/MCU/MPU/EMMC/PLCC...);
②Support SOP/SSOP/TSSOP/SON/QFN/QFP/BGA...;
③1-32 programming channels can be started, and large-capacity programming files are supported;
④The plug-in programming socket is convenient and simple, and different programming sockets can be inserted in advance according to the needs, which is flexible and saves time for changing the programming socket;
Marking
① OK discharge can be marked with solid dots;
② OK output can be marked with letters/numbers;
Supports: MCU, eMMC, NOR Flash and other device memories on the market
Packages: SOP,SSOP,TSSOP,SON,QFN,QFP & etc.